Candidate abandonment: If management understood anything about it, they would be livid. It's the debilitating metric that HR hopes never sees the light of day. The trouble is that few companies track it. Most pay no attention despite the fact that high rates indicate potential employees stopping in their tracks. For any organization struggling to find skilled and qualified workers, candidate abandonment is a recruiter's sweat-inducing nightmare.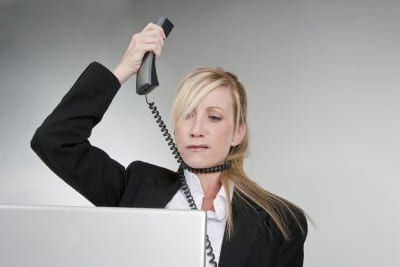 First of all, what is candidate abandonment? It is simply when a job applicant views a job opportunity and starts to apply but stops.  Some may reason that abandonment at this early stage might be a good thing. They are probably right. The applicant may realize he is not qualified. Or he might decide it is just too much work – also a good thing for the employer to know if the applicant isn't willing to take a few minutes to apply.
But that's where the end of the road for good news. Abandonment starts to go bad from here. And more and more candidates are abandoning the job application in the middle of the process. Why?
Typically there are four stages of recruiting where candidates get lost:
Prospects start the application but don't finish.
Candidates don't respond to calls or for a scheduled interview.
An offer is made, accepted but then rejected by the candidate.
New hire scheduled to start does not show.
While a small percentage may still be those candidates who realize they may not meet basic credentials, the far bigger majority comes from candidate frustration. That's a critical and growing problem for business.  It is difficult enough to attract qualified candidates. But turning them away by a bad process is bad business. Reducing candidate abandonment due to a bad experience is what companies need to fix fast.
Here's one example of data you might retrieve with the click of a button from an applicant tracking system like Prevue APS.

Following adjustments to the application and screening questions based on these results, the abandonment rate for this client was significantly reduced:

Addressing candidate abandonment begins with the collection of relevant data (such as in my example above.)  That's a huge problem for most companies.  Without some type of applicant tracking software or sophisticated company website analytics, a company has no clue about how many applicants viewed a job posting, how many started the application, and where and when did they quit the process? So the first step is collecting real and relevant data.
Additional points of abandonment that could provide insight to a bad process or candidate experience might include:
Candidate doesn't respond to calls/emails about scheduling interview
Doesn't show for the interview
Doesn't provide references or other requested documents
Doesn't complete required pre-hire assessments or background checks.
The reasons for abandonment will change from company to company, maybe even job to job.  What are a few of the most likely reasons driving abandonment?
An easy solution of course would be for a company to abandon any filters. By removing requests for references, screening questions, pre-hire assessments, and the like, it is very likely that candidate abandonment rates would decrease.  But that's not practical and would require increases in human resources to process applicants expeditiously.  The best solution requires a delicate balance between getting enough information to qualify and disqualify applicants quickly and fairly but also create a positive candidate experience.  Like any great recipe, it takes data, time, and tweaking. But in the end it's so worthwhile.
Sometimes it's what you don't know but should that kills a business.  Candidate abandonment is one of those things. Fix it today.