More companies are hiring. Job creation is improving. The competition for qualified and qualify workers is heating up. Here are 8 steps employers must take to attract enough qualified applicants to fill open positions quickly.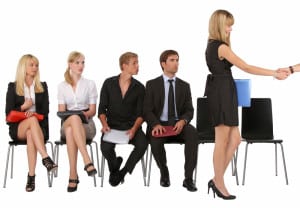 Create a company career page to recruit employees. This doesn't have to be a separate site. It could just be another page or section on your existing website. But when a jobseeker visits this page, it must engage them.  It must capture their attention. Requesting a top prospect to simply "send your resume to jobs@abccompany.com" just doesn't cut it. Sought-after talent knows from experience that email application submissions somehow disappear into the HR black hole.
Applicant friendly is more than a buzzword. If the applicant is ready to apply, it should just take one click and the application process starts. If they want more information, the information should be readily available. If they want to ask a question, contacting someone should be easy. Consider a live chat option or a link to an HR. (More on the follow-up email later – see #7.)
Optimize your recruiting pages. Treat these recruiting pages the same way you treat your landing pages for your products and services. Make sure you are using the right keywords (the words a jobseeker uses, not the words or phrases you'd like them to use.) Don't use acronyms or words that only insiders use. The goal for search engine optimization is showing near the top when a jobseekers searches.
Add images of your facility, employees, and company events. Search engines like images and so do website visitors. Create a subpage or another menu tab on your recruiting website that highlights events your company sponsors internally or in the community.  Include links to bios of company officers and key employees.  You might even consider posting 60 second videos from employees sharing what it's like to work for your company.
Create a social recruiting strategy. Companies still acquire nearly 80 percent of their job applicants through online job boards. But social networking sites are growing fast and many companies are finding LinkedIn, Twitter, and Facebook as excellent sources for candidates, especially hard-to-fill positions. Within the next few years, social media will become the dominant source of candidates. Now is the time to start engaging jobseekers. Even if now is not the right time for you or the candidate, it is prudent practice to start developing key connections now.  Social recruiting takes time – think crock-pot not microwave!
Keep job applicants local. When a jobseeker decides to apply for a job at your company, stop sending them away to online job boards and social networking sites. Use an applicant processing system that allows job candidates to apply in a system that you control. Having candidates complete applications on third party sites does not distinguish you from the competition. It doesn't create a unique applicant experience. Careerbuilder and Monster don't differentiate you, a requirement when attempting to attract skilled workers.
Follow up promptly. When HR and recruiters receive a 100 resumes in their email box, it is impossible to reply quickly. That is a huge turn-off to top prospects. It's no different than a customer calling to request service and no one responds. An automated applicant processing system allows your company to customize email messages thanking jobseekers for applying and automating follow-up message to keep them updated or to request additional information.
Build a talent pool.  Why re-create a candidate list every time you have a job opening. Why not develop a talent pool, a well that you can dip into when you have a vacancy? Stop helping CareerBuilder, Monster and other job boards build their talent pool that they market to your competitors. This is a good 3rd reason to use an applicant tracking system.