You might think that with all the trouble companies are having finding enough qualified and skilled workers that the recruiting function would be working like a well-oiled machine!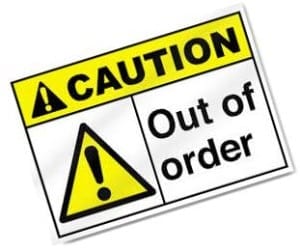 Think again! Recruiting is broken and management should just hang an "out of order" sign on its door. One reason is that finding a fix shouldn't be based on whack-a-mole game theory, which seems to be the approach du jour.
In most organizations, the success of recruiting efforts is measured by how quickly HR can post a job opening and fill it. Quality of hire is often based on gut, not substantive background, and given cursory attention…until after the new employee quits or is terminated. Recruiting costs are viewed as expenses, not investment in human assets. It works on a shoestring budget, if one exists at all. Discussions between management and HR are laced with anecdotes, hunches, and ambiguity. The decision to select one source over another (should we use Careerbuilder or Indeed or a staffing firm?) is often the lowest cost. As a result, management is frustrated because HR doesn't provide them with meaningful data; HR and recruiters are frustrated because they don't have access to the numbers that management needs. It's a stalemate between lack of investment in a reliable recruiting process and ineptitude.
So as Dr. Phil prods his clients, "how's that working for you?"
Apparently not so good. In a recent survey published on SmartBrief on Leadership, only 16.67 percent of those surveyed reported their company was very effective at hiring top performers. Over 42 percent were somewhat effective "from time to time" leaving nearly 42 percent struggling or rarely effective.  In other words, recruiting is out of order in nearly 8 out of 10 companies. There is no other department or function in business that is allowed to operate with such inefficiency.
That revelation couldn't come at a worse time with job openings at record highs, reported shortages of skilled workers increasing, and wages on the rise. Management better stop hitting the snooze button and wake up to the realization that skilled worker shortages is not just a blip, but a growing problem with little if any relief in sight.
What's a company to do?
To say that a company must recruit smarter is a gross understatement. That's a given but much easier said than done. It is not that recruiting better is so hard but smarter recruiting requires data. Future success is all about predictive analytics.  But few companies collect or track valid, reliable, and meaningful data. When data is collected, it is tracked manually using a spreadsheet.
I'm not making light of the spreadsheet. It's a powerful management tool. It's a step in the right direction. But keeping it current takes time – a resource few recruiters, hiring managers, and HR professionals seem to have. The data is rarely captured in real-time and therefore its utility diminished. If the data is analyzed at all, the analysis is typically prompted by a need to report to management, not applied dynamically to the recruiting process. You can't improve the recruiting process if you're always looking in the rear-view mirror.
The solution to bring order to this madness is an applicant tracking system. Unfortunately both management and HR don't see the forest for the trees when it comes to the benefit of automation in recruiting.
For sure, companies need more applicants to view job openings. It's a simple formula.  While many formulas exist, a conservative approach suggests that it takes 24 applicant views to get 1 hire. Other surveys show the number could be as high as 1000:1 depending on the skills or other company specific job requirements, ranging from job credentials to location.  But that's the tree approach.
The forest – the big picture – is the data that an applicant tracking software collects. With more data and the ability for real-time reporting, management can identify from which source the higher quality candidate comes and at what cost. That's the key – reliable and meaningful data in real time.  With good data it is easy to select a source based on fact, not hunch. Better sources mean better candidates. More resources can be directed to those sources and recruiters can close off the rabbit holes. The game of whack-a-mole to select the best source ends with better data.
Ultimately most decisions to use or not use applicant tracking software have been based on the naïve hope that it will open the applicant flood gates and solve the problem of filling jobs faster. Fortunately it will do that up to a point. But an ATS is not the Holy Grail. It doesn't help overtime the rocks where many qualified but passive candidates lie. Simplifying recruiters' workload helps but it is just added value to the real value and impact that an ATS brings to a business – valid, reliable, useful data. It allows a company to attract applicants, screen candidates, track sources, and then analyze the data to determine what is working and at what cost.
The naysayer's rebuttal will be that all of this information could of course be collected and analyzed manually…but at great cost and time. Alternatively, an ATS allows management to get the information they need now, make necessary adjustments on the fly, and provides HR an affordable system to demonstrate and improve ROI on its efforts.
An ATS isn't the destination but the beginning of a journey into using Big Data to find and manage talent.