Putting the Humanity Back In HR with Steve Browne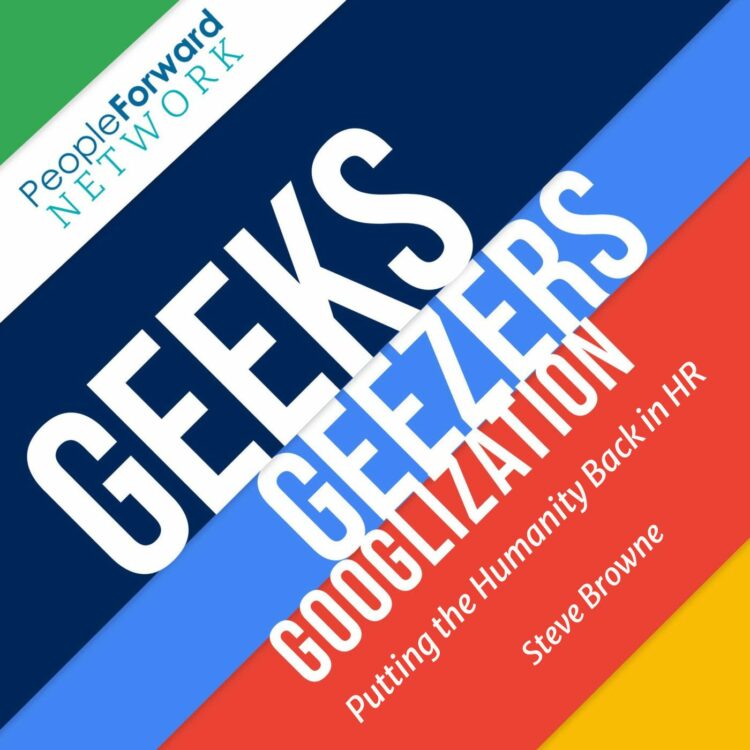 Reimagining the Way We Approach HR and People.
A survey done in 2019 revealed that as many as 98% of CEOs said remote work wouldn't work for their business. Lo and behold, just one year later, a global pandemic, and existential threat to business, challenged these same executives to adopt policies and shift mindsets overnight.
Now, more than two years later, and armed with this fresh perspective and new way of living and working, companies worldwide are struggling to figure out the new world of world. Look no further than reports about unemployment, labor shortages, job openings, and quit rates! The war to retain and hire quality talent is on. The Great Resignation is just getting started.
And all eyes are focused on guess who to solve this historic business problem? Human Resource Leaders.
It's taking its toll too. How did we get here?
Find out more by listening to the brilliant Steve Browne, Chief People Officer at LaRosa's Pizzeria, who shares his common sense and very people-forward insights about HR and its future on Geeks, Geezers, and Googlization with hosts Ira S. Wolfe and Jason Cochran.
Getting to Know Steve Browne
As an expert in employee relations, networking, and company culture, Steven Browne brings 35 years of life lessons and valuable insights as an HR professional. He's worked in many industries including hospitality, manufacturing, consumer products, professional services, and more.
Steve was a member of The Society of Human Resource Management (SHRM) Board of Directors until Dec 2021. He has his own HR community through HR.net that reaches over 13,400 people and includes a monthly roundtable discussion forum and a newsletter. He's passionate about sharing what he's learned throughout his career with others in the HR space to create a people-centered workforce.
The Great Resignation, The Great Attrition, The Big Quit – whatever you want to call it, Steve Browne isn't buying it. 
Browne, Chief People Officer at LaRosa's Pizzeria, says people aren't leaving the workforce, they are simply leaving places that don't value them as both a person and an employee. That's why Steve is making LaRosa's an organization people want to be a part of by putting people first. And not just in theory, but in practice. 
Steve shares how the changes he's made to LaRosa's hiring process have brought in unexpected candidates who add to the organization's culture. As you listen, you'll learn why you should do away with job descriptions and overarching policies and take a more individual-focused approach to your team members.
Valuing the Person and Employee Simultaneously
Oftentimes, especially in HR, it's the employee who is valued. We tend to neglect the person who has an entire life outside of the office. Unfortunately, employees don't and can't check their personal lives at the door. People-first cultures recognize the whole person. Steve Browne believes that every HR issue is a people issue, and there has to be someone advocating for the people, not just the employee.
During this episode, he shares how he has successfully focused his LaRosa's Pizzeria management and managers to people first and gives actionable steps and insights for anyone involved in People-Forward Leadership.
After Listening You'll Walk Away With:
If you enable and empower your workforce, they will perform
Make room for the human side of your employees
Do away with one-size-fits-all systems, have boundaries but meet people where they are
Gain trust with leadership and frontline workers as an HR professional
How to take out barriers in the hiring process to attract high-quality talent
Insights on how to grow and innovate change in your company
The Lost Art of Relationship Building
Steve points out that it's so easy for HR to not engage with people in their organizations. He states that it's ironic and it's actually the most strategic thing you can do as a people advocate. Steve has learned from his own experiences that you have to spend time with people on purpose to get anywhere and implement change.
He dives into what his day-to-day looks like at LaRosa's and just how important that relationship element is when trying to move the needle for an organization. He touches on:
Language habits to use when advocating for your people to leadership
How outdated policies aren't working and the mindset you should have instead
People-first vs. Collective HR
Adapting During Adversity
Steve is no stranger to adversity and trying times. While at LaRosa's, he experienced the death of the beloved CEO and then battled through the challenges that the pandemic brought on. There were many changes that his team had to make, with him leading the charge. It wasn't always easy navigating a world of unknowns. He reflects on what went well and what he's taken with him in a post-pandemic world.
"You can't just wish to be agile, you have to practice it."
Imagine navigating and implementing management's overnight decision to start offering curbside service. Steve had a key role and reveals how crucial it was to treat everyone as essential, not just follow employment classifications. The pandemic exposed how often the front-line, hourly worker was more essential than even the bosses.
Tips When Approaching Senior Leadership
Any HR professional that is worth their salt knows that a key element of success is senior leadership buy-in. Trust plays a huge role in implementing change, so how do you get these executives to share your vision? 
Steven suggests you need to focus on the behavior vs function and ask questions to create a positive narrative. You'll want to listen to this episode to hear his valuable insights on how to frame conversations to produce productive outcomes. 
Ready to learn more? Learn from Steve Browne!
Growing and Innovating Change
Take the simplistic approach, says Steve Browne, which means thinking outside-the-box, and not overcomplicating things. Rethink your approach and focus on becoming a strength-based organization. This means considering:
How finding good culture fits makes your hiring process biased.
What it looks like to really value diversity.
Getting rid of old school job descriptions
Valuing the individual over rigid policies
To listen to the full episode
[04:44] "Every issue is a people issue"
07:23] Putting the humanity back in HR
[10:32] Being agile in the face of challenges
[13:41] The intersection of people and work
[18:02] Focusing on behavior instead of function
[20:38] Valuing individuality within a team
[23:13] Doing away with job descriptions
[27:41] Adapting good ideas to your company
[34:15] Ira and Jason's Takeaways