Yes – you read that right. 65 percent of today's schoolchildren will eventually be employed in jobs that have yet to be created, according to this U.S. Department of Labor report. That also means that many currently employed workers for the first time since the industrial revolution must be thinking about what they will do to make a living 10 to 20 years from now. Rapid technological change is changing the skill requirements for most jobs. Just as manufacturing saw a shift from 80 percent unskilled jobs just 30 years ago to 12 percent today, the next decade will see a shakeout of unskilled jobs in early every industry.
What are some of the new career possibilities? Here is a list of 8 new jobs people will have in 2025, at least according to a recent article in Fast Company.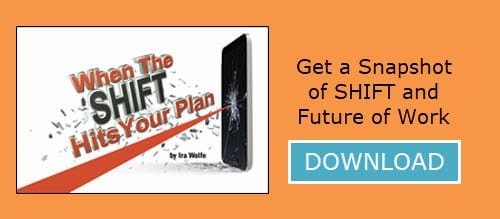 Technology has already eradicated many jobs. For example, the elevator operator, pinsetter, copy boy, iceman, milkman, switchboard operator, typist, telegraph operator – all jobs that are almost extinct. The list is growing longer day by day.
Both educators and businesses have a daunting task ahead of them: teach students and employees skills to solve problems we've never seen before and won't see for years.
Many other jobs may stick around for a while but expectations and qualifications will evolve. Consider the librarian. Digitization and the Internet require less of a need for a person to be physically present. But research of a vast collection of resources and information is daunting for many people. The librarian of the past was an expert with the Dewey Decimal System. The new librarian will be a digital archivist, savvy with searches, keywords and helpful websites.
Stock brokers and accountants beware too. A stock broker used to be the go-to person to handle all of your investments. Today the order-take stock broker is a dinosaur. The same goes for the tax-preparing accountant. Software and off-shoring has made preparation and filing tax forms easy. Consumers and businesses will retain accountants to offer them business and financial advice, not fill and file forms.
*** Which jobs will be automated first?   Download "When the SHIFT Hits Your Plan" ***
"America is at the beginning of its third great technological revolution," writes Ed Gordon in his soon to be released book Future Jobs. He predicts that major breakthroughs and changing job markets will produce new employment opportunities in:
Big Data
Nanoscience
3-D Printing
Advanced Robotics
What jobs in your company will be extinct within the next 10 years? What jobs will be changed so much that current employees won't qualify to be hired again? How will your business cope with the changing job market?
The promises of science fiction are quickly becoming workday realities.
Learn more in this FREE ebook "When the SHIFT Hits Your Plan"