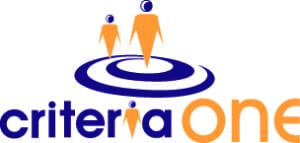 The criteriaONE™HIRE Hiring System helps companies hire right for higher performance.  It is a proven system built on Fortune 500 technology but designed for simplicity and ease of use for small business. criteriaONE™ puts you in control of YOUR hiring process by giving you a user-friendly system, a proven process, and best-practice technology.
Designed and priced to fit the needs of small and local businesses, the criteriaONE™ Hiring System offers distinct and measurable improvements in the ability to source, recruit, screen, and select the right employees quickly, conveniently, and accurately.
Free Your Time
We setup and can help manage everything you need, including create your career page, post job ads, set-up multiple users, create screening questions, plus much more. All you have to do is log onto your secure online dashboard to view and interact with your candidates—it's easy, plus we'll walk you through every step and setup many of the communication templates you'll need.
Stay Organized
Our Applicant Dashboard shows you everything you need—your applicants, their screening question scores, pre-employment testing scores, their application status, plus much more—all in one view. Clicking on an applicant shows their contact information, resume, and your personal notes. Don't waste time searching for the information you want, it's all right where you need it – at the click of a few keystrokes.
Company Branded Career Website
criteriaONE™ includes a branded career page that will integrate seamlessly with your website. Embed pictures and videos to promote your company. The application process is simple and intuitive, reducing abandonment. You also have full control over how much information you want to collect. Do you have a position where you would like to see a design portfolio or case study? Your applicant can easily upload content and showcase their talent.
Access to our Bank of Job Boards
criteriaONE™ helps you cast a wide sourcing net without requiring additional resources, time, and money. We use Prevue APS Pro to manage your hiring needs. APS Pro is connected with hundreds of free and paid online job boards around the world. We help you craft your job ads and push them out to as many job boards as you like. Every response is tracked, so you know which sites are sending you applicants. Next to personal referrals, online job boards are the top source for applicants finding jobs—don't miss out. Our team of hiring experts is available to help you connect the right job boards to your system.
Get Referral Hires Through Social Media
Word of mouth referrals from employees, vendors, and suppliers remain the best source of high-quality applicants.  And Social Media is like putting word of mouth on steroids. APS Pro pushes your ads to many major social media channels (Facebook, Twitter, LinkedIn) as well as sites like Craigs List and others. We can also build your career page right into your existing Facebook page. Leverage your brand ambassadors and let them spread the word for you. 73 percent of people aged 18-34 found their last job through social channels – spread the word.
Applicant Screening at a Glance
Our powerful Applicant Tracking System uses job specific screening questions to narrow down your list of applicants.  Assign values to each candidate screening question answer and see who's most qualified – at a glance. You then can opt to see only those who are most qualified for the role, so you can quickly respond and get them in for an interview. Comparing candidates is simple—just sort by scores. No other ATS does that for you.
Communicate With Your Candidates
Finding the right applicant is hard enough.  Keeping them engaged is essential.  In today's environment, it's a must for you to communicate with qualified candidates quickly and often. APS Pro comes pre-loaded with auto-response emails (which we can fully customize). You can quickly let applicants know you received their resume. There are also status update emails you can send with just a few clicks. Give your candidates the best experience possible and keep them updated.
Keep Everyone In The Loop
On top of unlimited user logins, your ATS also has Workflow features. Managers can easily be assigned candidates automatically, or by your HR Manager. Sharing candidates within your organization is lightning fast—just pick the manager you want and forward them resumes, Interview notes and status updates (and job fit scores if you use them). Every piece of information can also be shared… or kept confidential…you have full control.
Prevue Personality Screen
Prevue Screen is a short, 48 item questionnaire that provides a personality measure of Doubtful, Possible or Good against a custom Prevue Benchmark. Developed to help hiring managers and recruiters screen job candidates for high-volume entry-level or hourly positions, the Prevue Screen is a cost-effective and expedited personality assessment solution. (Other pre-employment hiring systems are also available for hundreds of positions – from entry level to CEO).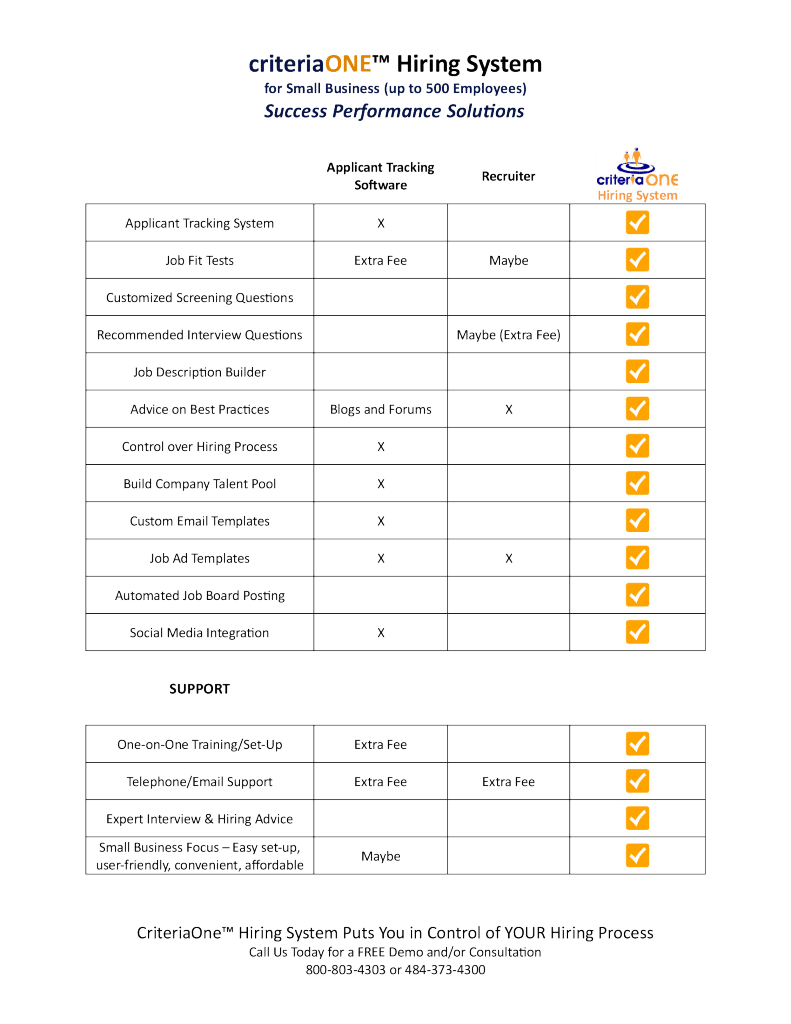 Contact Us Today!
[contact-form-7 id="1186″ title="Contact Form – CriteriaOne Hiring System"]