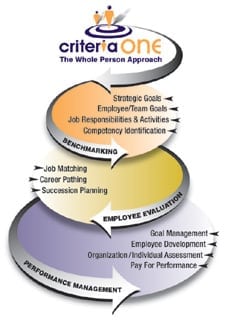 CriteriaOne® is the most reliable and predictable solution to hiring the right people, building the best teams, and keeping your top talent motivated because it links individual competencies directly to corporate profitability. Using CriteriaOne tools and principles, managers can benchmark the profiles of highly successful employees, evaluate and assess internal and external candidates, and manage the performance of all employees.
But despite its leading edge sophistication, CriteriaOne® job candidate assessment software allows managers to cut-through the "nice-to-know but what do I do with it" side of personality testing and convert the knowledge of how and why employees do what they do into desirable outcomes such as higher revenues, increased productivity, lower turnover, more retention, and even fewer mistakes and accidents. By incorporating latest generation behavioral and personality tools with traditional employee assessments such as behavioral interviewing, reference and background checks, and other tests, CriteriaOne® hiring software provides a proven blueprint for productive, safe and motivated workers.
By following the CriteriaOne® process, human resource and hiring managers can also safely comply with hiring and employment guidelines while predictably identifying candidates and employees who have the right competencies (what skills employees need to know), proficiency (how well employees can apply what they know), and motivation (will employees apply what they know) for any job.
CriteriaOne hiring software is the valid, practical and cost-effective turn-key recruitment, selection and retention solution for business and organizations of all sizes. This job candidate assessment software is also based on the Whole Person Approach to assessing employees recommended by the U.S. Department of Labor.