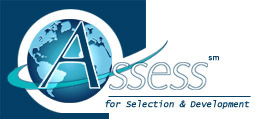 ASSESS Selection and Development System is a comprehensive yet flexible web-based employee assessment system that links job performance to an organization's business goals and objectives. The ASSESS System psychologists have assessed millions of people in a broad spectrum of industries and positions spanning 42 countries and supporting 16 languages. Backed by nearly 30 years of research, our selection solutions and job-and culture-specific assessments provide the information you need to make a confident hiring decision.
Candidate and employee results can be viewed four ways:
The Graphic Profile is a snapshot of a candidate's ASSESS results.
The profile is a "snapshot" that will allow you to see large differences from one dimension to the next. Don't pay much attention to small differences. Unlike intellectual ability measures, higher scores on personality measures are not necessarily better. The best "score" depends on the job requirements and/or cultural fit.  Download a sample ASSESS Selection Report  for an in-depth interpretation.
72 Job Templates allow for the comparison of results to various normative groups. It answers the question "What do typical people in this job look like?"
While the body and content of the report are always based on professional norms, a template is a guide that allows the reader to compare the candidate's scores on the graphic profile in comparison to people who are in that job group to assess important similarities and/or differences in characteristics. Since it provides comparative information it is not necessarily bad if the candidate's scores fall beyond the template range.
Once a report is processed, as many templates as desired can be applied to the profile and printed without additional costs.
38 Competencies making up 9 Competency Models allow companies to compare the results of candidates and current employees to successful managers, salespeople, and other professionals.
Most organizations define what they need from people in terms of competency. Our extensive research has been able to link specific personality traits to competencies exhibited in the workplace.  Candidates and employees completing ASSESS are compared to the assessment results  of 100,000 managers, executives, salespeople, and other key roles identifying potential strengths and challenges in current jobs and future roles.
Once a report is processed, participants can be compared to one of the competency models in either a selection (for hiring) or development report.
For companies with existing competency models, ASSESS reports can be customized.
The Success Profile allows for the comparison of results to successful people in a particular job. It answers the question "What do successful people in this job look like?"
A Success Profile is similar to a Template but instead of comparing the candidate to what is typical for supervisors, salespeople, claims managers or some other comparison group, the comparison is made to a job-specific group in your company and distinguishes performance. Unlike a template, a candidate's scores should fall within the success profile range.
Typically, this involves conducting a validation study and building a predictive model of ASSESS characteristics desired for success. The result is a graphic representation of success ranges for the characteristics measured by ASSESS and an overall Success Index score which can be used in making selection decisions.